Alberta Toll Free: 1.800.461.3812

Edmonton Head Office
8703 50 St NW
Edmonton, AB • T6B 1E7
p 780.465.8011 • f 780.465.8919

Calgary Office
#2 12180 - 44 St. SE
Calgary, Alberta T2Z 4A2
p 403.279.7958 • f 587.352.9745
Aqua Air Energy Solutions
1090 Homer St.
Suite 332
Vancouver, BC V6B 2W9
Ventrol Custom Air Handlers
Customized solutions to indoor air quality
Ventrol's product line encompasses a comprehensive range of air handling equipment built according to the latest industry standards. Ventrol incorporates fans designed for maximum energy efficiency and low-noise performance in every unit. The company's products invariably surpass customers' expectations of engineering quality and cost-effectiveness.
Commercial property owners, builders of new office buildings, schools or institutional premises form Ventrol's customer base.
Consulting engineers can turn to Ventrol for custom design and one-of-a-kind construction features. The company begins each mechanical design project with an in-depth assessment of factors:
Environmental Considerations
Humidity Levels - Efficient dehumidification provided by heat recovery systems or heaters with greater modulating capabilities improves operating costs.
Filtration - A variety of media are available to control airborne particulate. Efficiency ratings range from 25 to 99.99 percent.
Outside Air - Designs are available for ambient temperature from sub-zero to 1200F and fresh air requirements from zero to 100 percent.
Physical Requirements
Ductwork Designs - Cabinet size and supply/return openings can be designed to complement any ductwork configurations.
Accessibility - Service doors, vestibules and lighting can be specified to enhance serviceability.
Aesthetics - A variety of exterior finishes and casings are available to meet any architectural requirement.
Acoustics
Vibration Isolation - Springs, and inertia bases are used for sound sensitive applications.
Sound Attenuation - A variety of acoustical fills and sound barriers can be used to accommodate sound sensitive installations.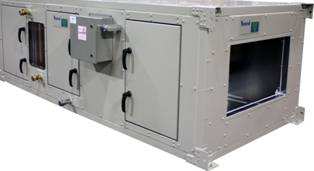 The result is superior quality design and cost efficiency.

Ventrol delivers the caliber of quality and service that has long been the hallmark of its parent company, the CES Group Inc. Thousands of building projects have benefited from CES engineering excellence. The group enjoys a well-earned reputation for careful attention to detail and quality in diverse applications.
Innovative air handling solutions
engineered to your specific needs
For more information, visit http://www.ventrol.com