Alberta Toll Free: 1.800.461.3812

Edmonton Head Office
8703 50 St NW
Edmonton, AB • T6B 1E7
p 780.465.8011 • f 780.465.8919

Calgary Office
#2 12180 - 44 St. SE
Calgary, Alberta T2Z 4A2
p 403.279.7958 • f 587.352.9745
Aqua Air Energy Solutions
1090 Homer St.
Suite 332
Vancouver, BC V6B 2W9
Temtrol
Temtrol Custom Air Handlers
OEM and Replacement Coils
Temtrol manufactures a full line of coils for its air handling equipment. Versatility in air handling requirements also makes the retrofit replacement business a natural. All Temtrol coils are made of the highest quality materials, manufactured under strict quality control standards to ensure the finest quality coils, designed for long life and top performance.
Options
Tube O.D. (Copper)
1/2"
5/8"
1 1/8"
Tube Wall Thickness
.017"
.025"
.020"
.025"
.035"
.049"
.035"
.049"
Coil Type
Water
Direct Expansion
Condenser

Water
Direct Expansion
Standard Steam
Steam Distributing
Hot Water Booster

Steam Distributing
Fin Material/Thickness
Aluminum / .006"
Copper / .006"
Aluminum / .008", .010"
Copper / .006", .008", .010"
Aluminum / .010"
Copper / .010"
Benefits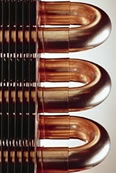 Variable casing dimensions, fin spacing, copper tube thickness, and a variety of casing and fin materials
Removable plug for cleaning internal tube surfaces on water coils
Evaporator coils with intertwined circuiting for full face capacity control on two compressor systems
Baked phenolic coatings to extend the service life of coils installed in corrosive atmospheres -fins, tubes, headers, and casing are completely coated
Copper fins, tubes, headers, and stainless steel casings for coils in corrosive atmospheres requiring similar metal
Temtrol offers competitive pricing and quick ship programs.
For more information, visit http://www.temtrol.com