Alberta Toll Free: 1.800.461.3812

Edmonton Head Office
8703 50 St NW
Edmonton, AB • T6B 1E7
p 780.465.8011 • f 780.465.8919

Calgary Office
#2 12180 - 44 St. SE
Calgary, Alberta T2Z 4A2
p 403.279.7958 • f 587.352.9745
Aqua Air Energy Solutions
1090 Homer St.
Suite 332
Vancouver, BC V6B 2W9
Governair
Governair Custom Air Handlers
Governair manufactures HVAC systems for commercial and industrial use throughout the United States and around the world.
Governair systems are custom-designed to meet the specific requirements for each application by producing the most efficient and cost-effective HVAC solutions available. By coupling single source responsibility with highly refined and automated manufacturing techniques, Governair eliminates the cost burden typically associated with custom quality.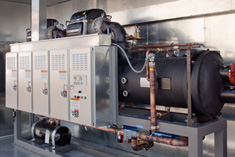 Design and construction are handled with intense professional pride and care. Extensive factory testing ensures performance, and warranty protection provides customers with the assurance of continued satisfaction. For over 70 years, Governair has been defined by a relentless commitment to optimizing value through excellence in engineering, manufacturing, and service.
For more information, visit http://www.governair.com/