Alberta Toll Free: 1.800.461.3812

Edmonton Head Office
8703 50 St NW
Edmonton, AB • T6B 1E7
p 780.465.8011 • f 780.465.8919

Calgary Office
#2 12180 - 44 St. SE
Calgary, Alberta T2Z 4A2
p 403.279.7958 • f 587.352.9745
Aqua Air Energy Solutions
1090 Homer St.
Suite 332
Vancouver, BC V6B 2W9
Energy Recovery Systems
High-Efficiency Energy Recovery Systems (HEERS)
Advantages of HEERS:
No Cross-Contamination of Intake and Exhaust Air
Unrestricted Location of Intake and Exhaust
Number of Intakes and Exhausts Variable
High Energy Recovery Efficiency
Existing HVAC-Systems can be retrofitted
Robust coil design unique to Konvekta
Frost control
Significantly reduces AHU footprint - full heating and cooling loads can be met with two coils
Quick return on investment
Integration of Other/External Heat/Cold Sources
High efficiency energy recovery substantially reduces heating and cooling requirements associated with HVAC systems and allows downsizing of heaters and chillers because energy recovery systems reduce peak heating and cooling requirements. Konvekta guarantees the amount of energy recovered and will work with each individual customer to find the optimal solution, balancing energy cost savings and return on invested capital.
Konvekta AG, a Swiss based company in the energy recovery business since over 60 years, has more than 1000 high efficiency energy recovery systems in operation in Europe. Konvekta is the technology leader in high-efficiency air-to-liquid heat exchangers and proprietary control software, and supplies a well developed package of custom-designed run around energy recovery systems for commercial and institutional buildings. These systems can achieve annual heating/cooling energy savings from 70% to as high as 90%.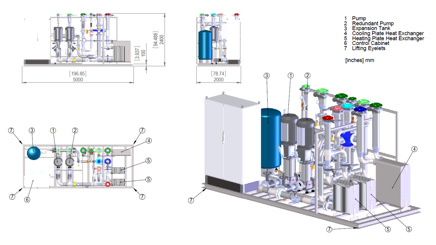 For more information see http://www.konvekta.ch
Aircuity
Aircuity Solutions are Safe, Smart and Efficient
With the current cost of energy and the growing concern for the impact of building energy use on the environment, the importance of investing in airside solutions to make buildings more energy smart and environmentally friendly has never been greater.
Building owners are challenged to find reliable technology solutions that help ensure their buildings operate as energy efficiently as possible without sacrificing occupant comfort, productivity or safety.
Aircuity monitors the indoor environmental quality of buildings and informs building ventilation controls to provide the optimal level of airflow. Hospitals and health care facilities, classrooms, labs, data centers, convention centers, libraries, offices, student centers and even sports facilities can use Aircuity to improve energy efficiency and indoor environmental quality.
Aircuity was founded in early 2000 by the management of Phoenix Controls Corporation and is headquartered in Newton, MA