Alberta Toll Free: 1.800.461.3812

Edmonton Head Office
8703 50 St NW
Edmonton, AB • T6B 1E7
p 780.465.8011 • f 780.465.8919

Calgary Office
#2 12180 - 44 St. SE
Calgary, Alberta T2Z 4A2
p 403.279.7958 • f 587.352.9745
Aqua Air Energy Solutions
1090 Homer St.
Suite 332
Vancouver, BC V6B 2W9
Krueger
TAD: Aluminum or Stainless Steel Radial Pattern Total Air Diffusers
The Total Air Diffuser (TAD) is a patented radial flow diffuser designed for critical spaces with stringent ventilation requirements. It features:
- non-aspirating,
- forced displacement,
- radial design.
Air flows from the TAD diffuser in a radial pattern, displacing large volumes of air out and away from the diffuser. This forced displacement of air prevents entrainment of room air which may be contaminated with pollutants.
With proper application, the TAD provides superior draft reduction for high air change rate environments such as animal rooms, laboratories, and hospitals. The TAD's aluminum and stainless steel construction option makes the TAD diffuser an excellent choice for corrosive environments.
Drop Face, High Volume, Low Velocity Radial Diffuser, Aluminum Construction
1- Way (90°) Deflection on Panel Sizes 24x24, 12x48 and 24x48
2-Way (180°) Deflection on Panel Sizes 24x24 and 24x48
Optional Back Pan Available as Series TADBACKPAN
Lay-in and Surface Mount Options
Standard Finish is British White
Steriflo: Stainless Steel, Operating Room Supply System
Krueger has been actively engaged in the study, design, and research of hospital operating room air distribution systems since 1967.
The Sterilflo System is designed to adapt to the ceiling of the modern operating room. Unlike a straight laminar solution, which requires an unbroken array of diffusers, the Sterilflo System utilizes specially designed laminar panels in conjunction with perimeter panels that produce an air curtain of a known profile. This permits discrete locations of the laminar panels, making it possible to place surgical lights, gas columns, intravenous tracks, and other items in logical locations between the perimeter and center panels. Thus, the Sterilflo System adapts to the ceiling plan rather than adapting the ceiling plan to the system.
Operating Room Particulate Control System
Stainless Steel Construction
Perimeter Air Curtain with Center Panels (Optimum Configuration)
Custom Engineered to Meet Application Requirements
Radius Corners for Ease of Cleaning
Model 5000: Laminar Flow Panels
The Krueger 5000 series is a low velocity, non-aspirating, perforated distribution panel which is ideal for use in restricted budget surgery areas, pharmaceutical manufacturing, industrial, electronic, aerospace and other clean room applications.
The Krueger 5000 series is available in two frame styles - Frame 22 for surface mounting and Frame 23 for T-Bar applications. The variation in material options allows the designer a degree of flexibility never before available in perforated panel systems. Further, Krueger's 5000 is available in a large range of panel sizes. The various panel sizes allow for flexibility when incorporating panels into a ceiling layout containing other components, such as lighting, gas outlets, etc. This is especially desirable in the case where a clean work area is desired rather than an entire clean room.
Laminar Flow Panel Constructed of Steel, Aluminum, or Stainless Steel
Single Face Panel in 12x48, 12x60, 12x72, 24x24, 24x48, 24x60, and 36x48 Sizes
Double Face Panel in 24x72, 36x60, and 36x72 Sizes
Quick-open Fasteners and Hanger Tabs
Safety Wires Included for Each Perforated Face Panel
Lay-in and Surface Mount Options
Standard Finish is British Whites
For more information see: http://www.krueger-hvac.com Critical Room Solutions
Cleansuite®
The CLEANSUITE system from HUNTAIR is a modular, ceiling-hung plenum with integrated filtration, electrical, piping and structural equipment supports. Its uses include hospital operating rooms, outpatient surgery centers and other laminar flow applications requiring low turbulence airflow and optimized contamination control. Nosocomial infections are a major concern for healthcare facilities because of their impact on the quality of patient care, added costs and potential liability.
CLEANSUITE offers single point responsibility versus traditional field-built systems - arriving at the jobsite in modules that can be navigated through standard doorways and service elevators, lifted into place and connected to the building structure. Each all-inclusive module can include integral boom mount(s), lights, filtration, air balancing, sprinklers, medical gas connections and more. Single point connections are provided for all services including electric, water and/or medical gas.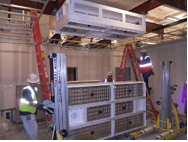 Other features and benefits include:
Aseptic design details with HEPA filtration and laminar flow produce an environment that meets the cleanroom requirements of the semiconductor manufacturing industry. HUNTAIR and CLEANPAK have extensive experience in serving these cleanroom requirements, which are significantly more stringent than current designs for healthcare facilities are capable of providing.
Each CLEANSUITE system is custom-designed to match your specific application requirements, reducing design work and helping to eliminate costly field workarounds.
Installs in 1/6 the time of a traditional field-built system, providing tremendous savings in installed costs and the coordination of trades, while also providing the opportunity to accelerate the timeline from construction to a fully functional, revenue generating facility.
For more information see http://www.huntair.com/products/Cleansuite/Cleansuite.html
Cleanpak
CLEANPAK products continually advance all standards of clean environments by controlling the full process of cleanroom development, from design concept to project completion. By responding to industry-specific requirements, our cleanrooms are setting precedents for the micro technology, semiconductor, biotechnology, and pharmaceutical industries. Being responsive to customer needs with strong support while maintaining active engagement in research and development has placed CLEANPAK in the forefront of cleanroom products and systems.
Cleanroom Systems

Manufacturing fully customized cleanroom equipment including ceiling grids, unidirectional plenums, and custom air-handling equipment serving all classes in the biopharm and semiconductor industries.

Laminar Flow Hoods and Booths

Exceed the most stringent pharmaceutical and biotech grade A/ISO CLASS 5 design requirements. Patented Flush Grid utilized in all modules. Available in grades of stainless steel or powder coated mild steel.

Custom Ceiling Grid Systems

Factory fabricated. Clean-Trak ceiling modules include lighting, lamps, ballasts, lenses, fire protection, and pre-wired particle probes. Installation takes a fraction of the time, manpower, and cost than stick-built systems.

Clean-Trak Plenums

Offers the benefits and performance of Clean-Trak flush ceiling grid, including integrated lighting and fire protection. Clean-Trak Plenums support high loads with minimum deflection.

Sprinkler Systems

Sprinkler mains and drops are prefabricated with the rest of the ceiling grid system to greatly simplify fab construction while saving time and preventing contamination.

Cleanroom Systems

Reengineering how you move air: compact, energy efficient, and with low sound levels. Breaks down large fan systems into smaller, more manageable fan arrays for added reliability and improved airflow efficiency. Ideal for retrofit applications.